We Are The Voice of the Business Community
Your success is one of your top priorities and we want to help
Learn more about our strategic priorities to guide the Rockwall Area Chamber of Commerce through the year 2024.
The Rockwall Area Chamber
Mission
To make every day extraordinary for business while maintaining the ideal hometown feel.
Vision
To be recognized as the destination for partner services, community collaboration, business growth, tourism and quality living.
Core Values
Leadership, Community, Balance, Integrity & Service
Our Team
Our friendly and professional staff serve on behalf of the business community.
Board Of Directors
Local business and community leaders who are committed to making their community the best place to live and do business.
It's actually quite simple — a chamber of commerce is an organization that's dedicated to protecting and promoting the local business community. It's primary goal? To be the eyes, ears and voice of business owners, oh yeah, we help business owners network and grow their business.
We have been told that we are a very unique chamber. We have a strong connection to our community and a representative body of non-profits as both members and on our board. We don't look at business ONLY, we believe that for business to thrive, you must balance community success with business success.
Bylaws for Rockwall Area Chamber of Commerce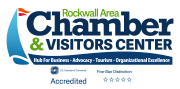 Embracing Excellence: Rockwall Chamber of Commerce's Five-Star Accreditation
The Rockwall Chamber of Commerce's five-star accreditation from the US Chamber of Commerce is a testament to their commitment to excellence and the success of the local business community. With this prestigious recognition, the Chamber solidifies its position as a trusted advocate and resource for businesses in Rockwall. Upholding strong business practices and advocating for pro-growth policies, the Chamber actively supports the economic prosperity and success of its members.
Let's Hear From Our Partners
If you're looking for an organization that will help fuel your success, then you really should consider joining us!
Moving here 5 years ago, I knew no one in Rockwall. After joining the Chamber and making the effort to get to know its members, the Chamber opened opportunities for me to truly be part of this community and expand my business. From serving on various committees, volunteering at events or being part of Leadership Rockwall…the people I've met have not only helped to expand my business, but I sincerely get to call them my friends. Nothing happens quickly, but what the Rockwall Chamber has provided me and my family, was well worth the wait.
Running a business can be a lonely task. There are moments where you feel like the weight of the world is on your shoulders, whether it be how to improve efficiencies or where your next customer might come from. With a Chamber membership, you're never alone. You have access to Community and Industry leaders, who are all willing to share ideas and help you develop a roadmap for success. The expression "A rising tide raises all ships", is never truer than with the Rockwall Chamber.
Membership in the Rockwall Chamber has been one of the most impactful things to growing by business. As well, it has been very impactful in growing me professionally. The people you meet and engage with are top level professionals who have made me better personally and professionally.
The Rockwall Chamber of Commerce has been an invaluable resource. I started my own law firm and felt confident in my legal abilities but didn't know how I could go about getting quality clients. I was doing my best but once I joined the Chamber, things really began to take off.
2022 Annual Report for Rockwall Area Chamber of Commerce
The Rockwall Area Chamber of Commerce is pleased to introduce six new board members beginning January 1, 2024. These dedicated professionals will be serving a
Read More »
Celebrate Small Business Season The Rockwall Area Chamber of Commerce is thrilled to announce the launch of Small Business Season! Small businesses are the heart
Read More »
2023 First Responders Appreciation Luncheon We were so honored to have been able to bring our community together in a heartwarming celebration of our local
Read More »