Active RVBA Members
Contact us to join today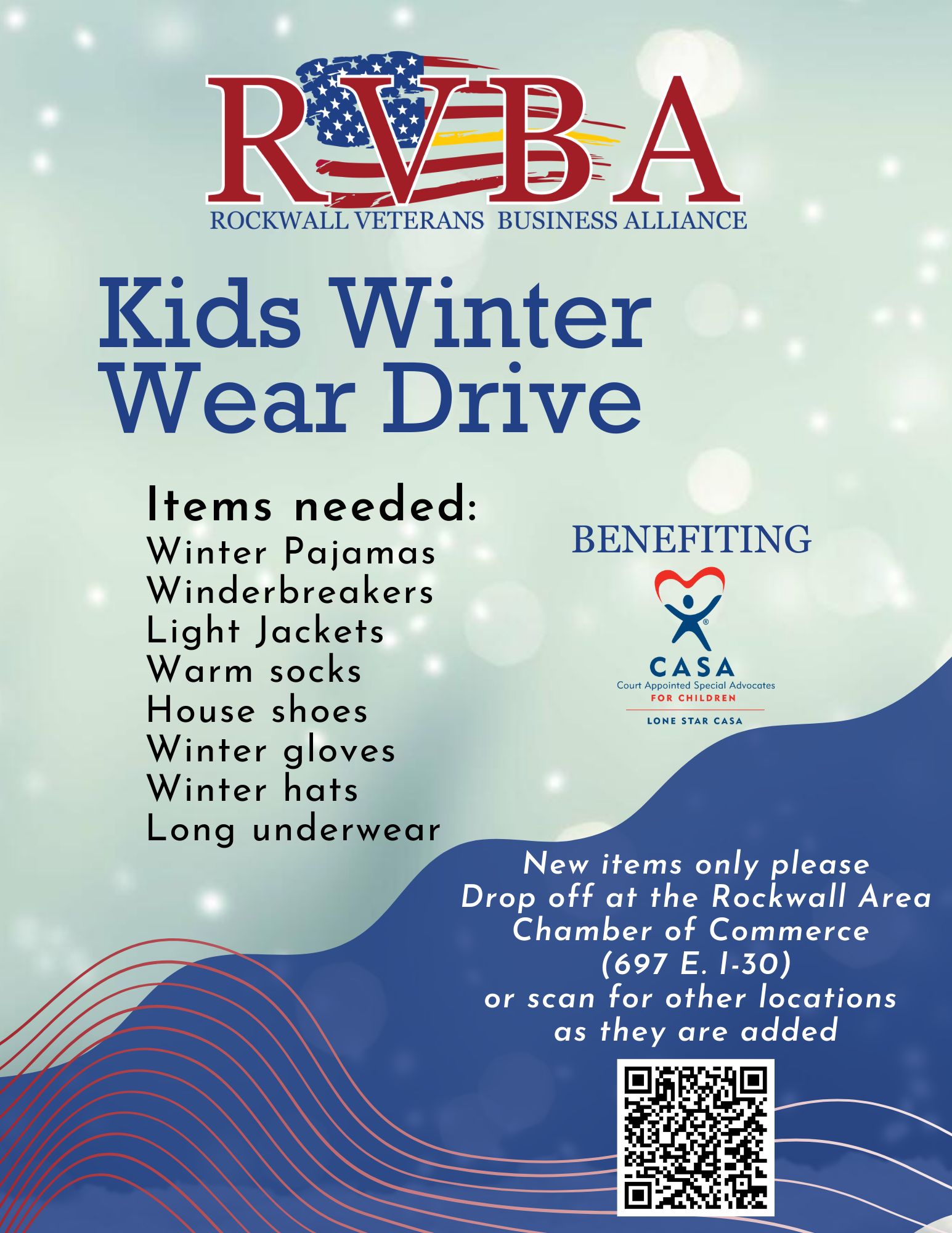 The Rockwall Veterans Business Alliance is teaming up with Lone Star CASA to help provide winter wear for kids they interact with.
About Lone Star CASA:
Founded in 1992, Lone Star CASA — Court Appointed Special Advocates for Children — serves Rockwall and Kaufman Counties in Texas. We're a 501(c)(3) non-profit organization that supports volunteers who gather important information about abused and neglected children and offer recommendations to judges that help them decide what is the best interests of each child.
Click here for more information on Lone Star CASA
The RVBA is asking it's members and the Rockwall community to donate new kids winter wear items such as:
Winter Pajamas
Windbreakers
Light Jackets
Warm socks
House shoes
Winter gloves
Winter hats
Long underwear
Donations are being accepted at:
Rockwall Area Chamber of Commerce
697 E. I-30
Keller Williams Rockwall
2701 Sunset Ridge, Suite 109
Rest Haven Funeral Home
2500 State Highway 66 East
To become a donation location, please email Shaun@RockwallChamber.org
Promote commerce and growth within the Veteran business community, to educate and bring awareness to Veteran-owned/operated businesses and provide mentorship to new and developing Veterans in the professional environment.
We unify, collaborate and promote opportunity for Veteran-owned or managed businesses in the Rockwall area.
If you are a Veteran doing business in Rockwall County, the Rockwall Veterans Business Alliance is the place for you! The RVBA will resume in-person meetings in May of 2021.
Follow us on Facebook or check the Chamber calendar for details.
RVBA is open to Current and Prospective Chamber Partners that are Veterans or who want to do business specifically with Veterans.
Membership fees are:
Chamber Partner - $50
Prospective Partners - $100
For membership information on joining the RVBA, email Shaun.