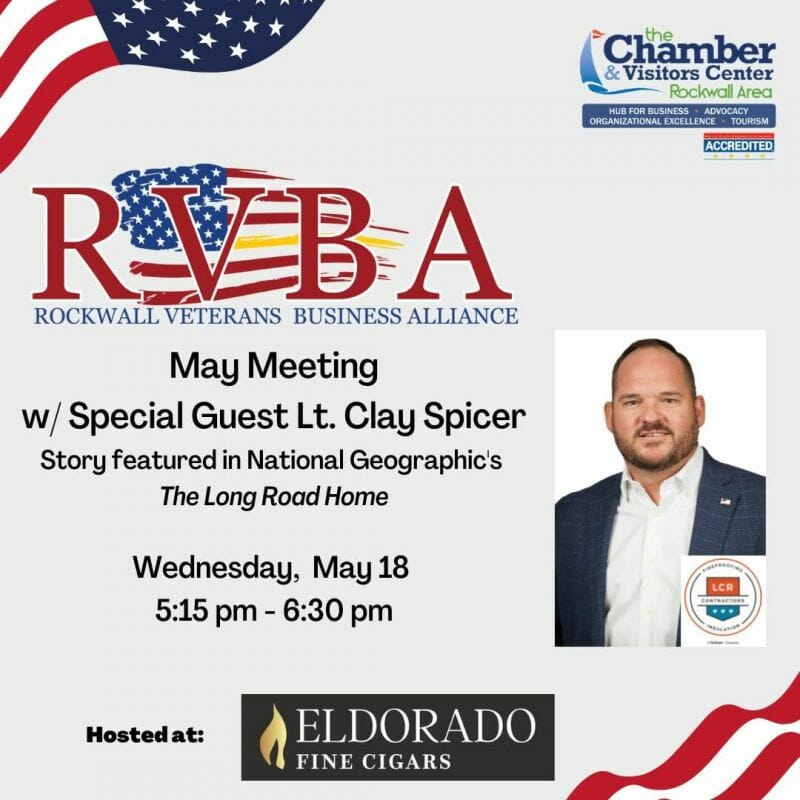 Meet with Veteran business leaders and their Patriot supporters on Wednesday, May 18 from 5:15 pm - 6:30 pm at Eldorado Fine Cigars for networking at fellowship. This month, we are honored to host special guest Lt. Clay Spicer, who was involved in an epic 48-hour battle during the Iraq War that is the subject of both the book & film The Long Way Home.
"Based on Martha Raddatz's New York Times Best-Seller of the same name, the series relives a heroic fight for survival during the Iraq War, when the 1st Cavalry Division from Fort Hood was ferociously ambushed on April 4, 2004, in Sadr City, Baghdad — a day that came to be known as "Black Sunday." The series cuts between the action on the ground in Iraq and that of the homefront back in Texas, where wives and families await news for 48 hellish hours, expecting the worst. "
Join us at Eldorado Fine Cigars THIS WEDNESDAY as we host our distinguished guest. Attendance is complimentary to RVBA members and their guests, but registration is strongly requested.
Promote commerce and growth within the Veteran business community, to educate and bring awareness to Veteran-owned/operated businesses and provide mentorship to new and developing Veterans in the professional environment.
We unify, collaborate and promote opportunity for Veteran-owned or managed businesses in the Rockwall area.
RVBA is open to Current and Prospective Chamber Partners that are Veterans or who want to do business specifically with Veterans.
Membership fees are:
Chamber Partner - $50
Prospective Partners - $100