Meet the Leadership Rockwall Class of 2023!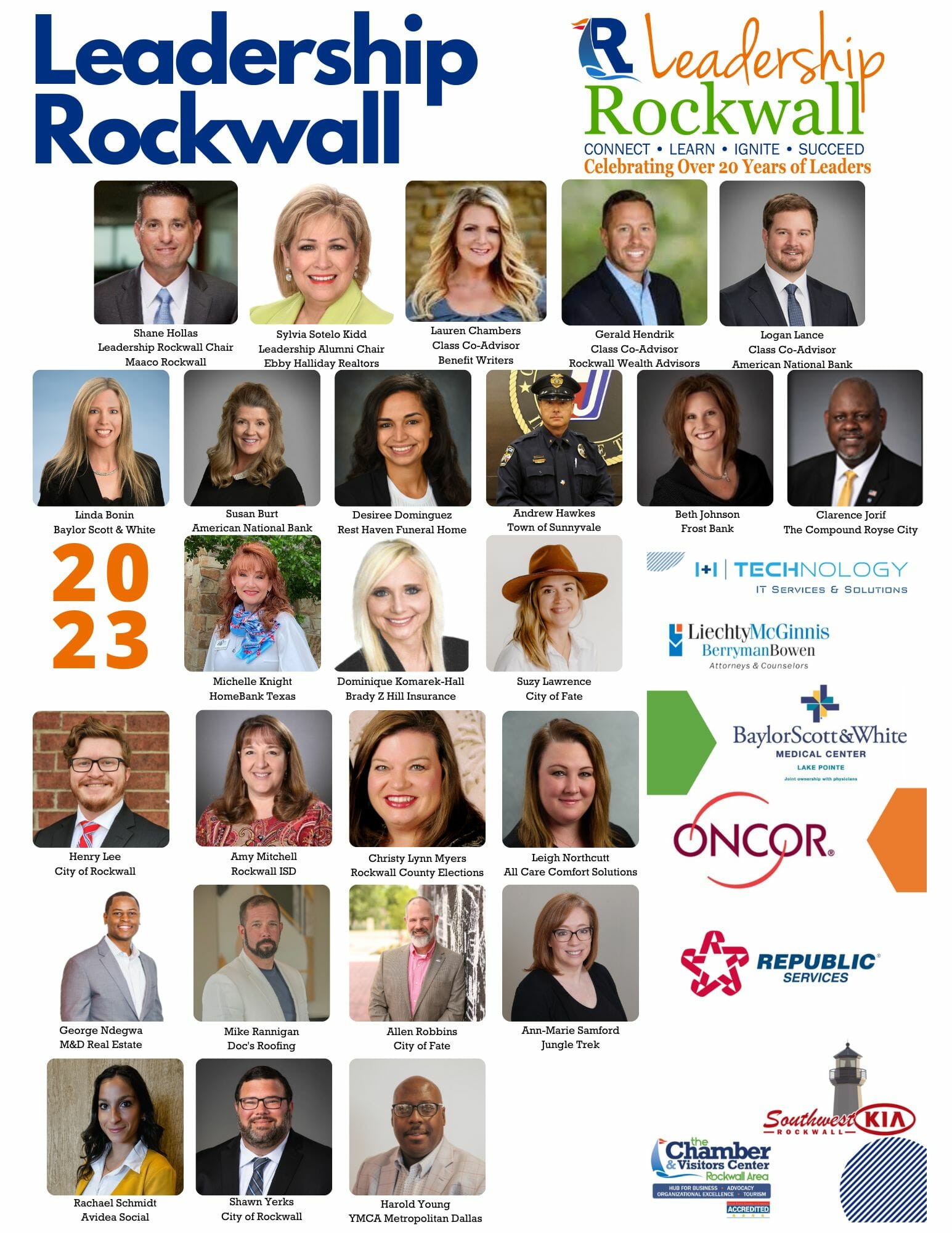 Leadership Rockwall (LR) is a 9-month, Rockwall County focused community leadership program designed to develop the skills leaders need to excel. The program includes a combination of in-depth issue seminars and skill development designed to enhance self-awareness of leadership approaches.
Participants are immersed in a full-day traveling class throughout Rockwall County that includes guest speakers, hands-on experiences, tours and relationship building. The goal of each class day is to challenge thinking and inspire participants to get involved in their community.
At the start of this 9-month program, participants are charged with the task of identifying an issue, program or project that needs attention. After selection and approval of the project, the class then plans and executes a sustainable community project.
With over 250 graduates, Leadership Rockwall produces a powerhouse of impactful community leaders and a thriving volunteer population that is more likely to serve on boards, volunteer, and give back to the community.
Today, Leadership Rockwall is the single most unique opportunity for emerging and existing leaders to build, collaborate, and steward a vibrant, interconnected community in Rockwall County and the surrounding area. The program identifies, educates, and develops leadership skills in approximately 15-20 individuals each year following a competitive application process.
For 24 years, Leadership Rockwall has served as the community based leadership program designed to help individuals grow as leaders and engage in their community. The program provides community immersion experiences and advanced skill development.
The goals are simple…to CONNECT AND LEARN leadership potential…to IGNITE communications between present and future leaders…to INSPIRE new leaders to tackle tough community challenges in an informed and responsible manner with the goal of SUCCEEDING into a strong network of effective community leaders.
If you want a deeper connection to the community and believe leadership is an investment worth making in your career and civic stewardship, Leadership Rockwall is for you!