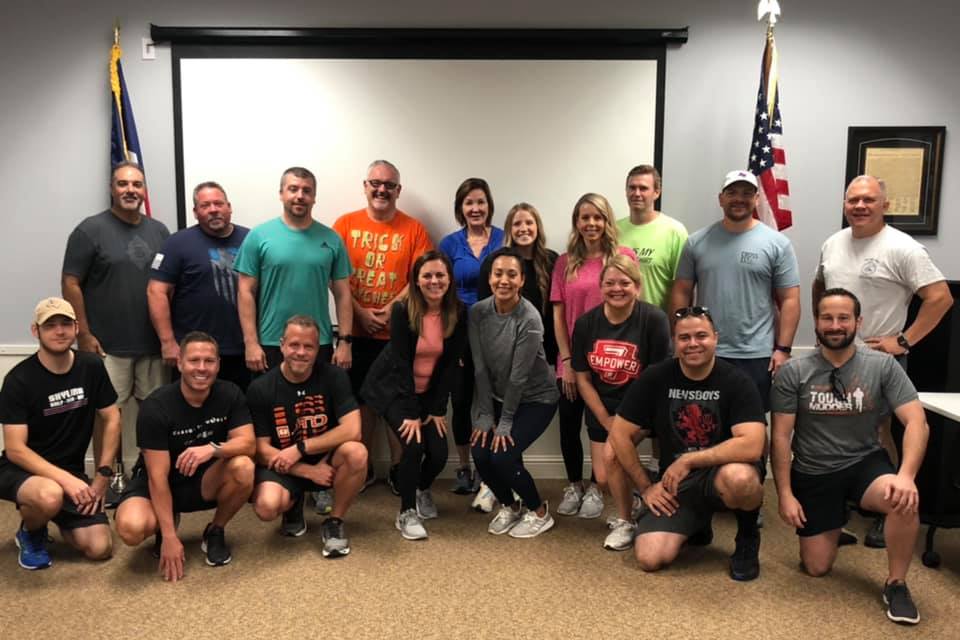 ROCKWALL, TX – October 11, 2021 — The Leadership Rockwall Class of 2022 trekked to Denton to take part in a two-day teambuilding exercise at the beautiful Stony Ranch. The group cooperatively scaled a 12-foot vertical wall, ziplined more than 300 yards from a height of 40 feet, climbed a 25-foot telephone pole, and finished the course by jumping to a trapeze bar suspended in the air! Fears were conquered while friends were made, all while polishing leadership skills that will take Rockwall to the next level.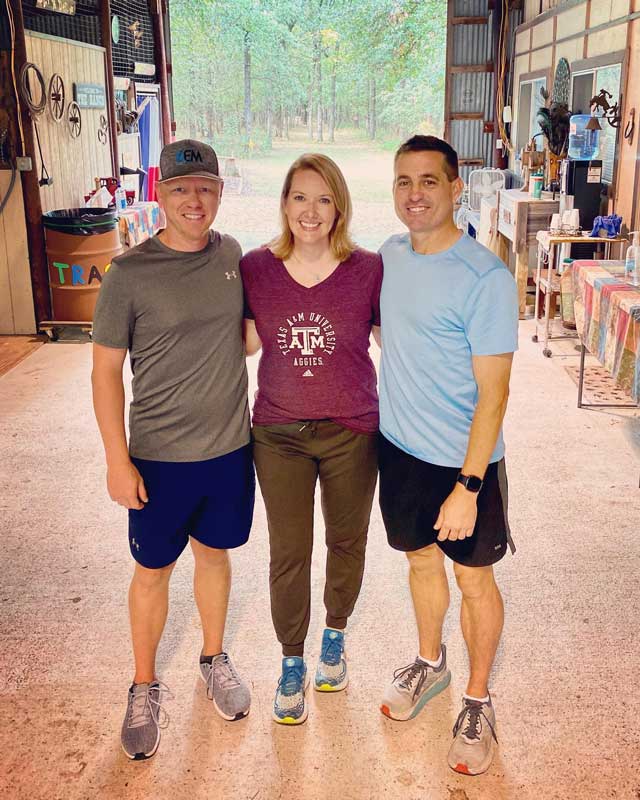 The Leadership Rockwall Class of 2022, sponsored by Baylor Scott & White Medical Center Lake Pointe, All Care Comfort Solutions, Oncor, Republic Services, and Southwest Kia Rockwall, is comprised of 18 professionals working in and around Rockwall in a variety of industries including: banking, engineering, healthcare, information technology, law enforcement, and many others. Despite the diversity of the participants and their life experiences, it was apparent that all left Stony Ranch united in the commitment to make a difference in the community.
---
Leadership Rockwall was founded in 1997 and is a comprehensive training experience for community members seeking to play a more active role in leadership and their communities.
The purpose of the program, as outlined by the Chamber, is…
• To develop awareness of the Rockwall County area – its strengths, challenges, and opportunities.
• To enhance leadership abilities.
• To create a network of informed, concerned leaders.
• To encourage greater involvement in the community.
The cohort will meet once per month over the next nine months to learn about a variety of topics relevant to our city, county, and state. Participants will have a chance to get face time with leaders in education, public safety, economic development, health care, and others. At the conclusion of the program, the group will have completed a sustainable, impactful, and exciting project that will serve the community for years to come. Stay tuned for this year's project selection!
Leadership Rockwall Class of 2022:
Leadership Chair | Shane Hollas, Maaco of Rockwall
Class Co-Advisor | Lacy Deckard, Ebby Halliday Realtors
Class Co-Advisor | Jared Schweers, Key Element Media
Cesar Bugarin, JCK Corporate
Max Geron, Rockwall Police Department
Kevin Hadawi, Wells Fargo Advisors
Saralyn Hanford, Hanford Planning & Consulting
Shelbi Hemphill, Rockwall ISD
Gerald Hendrik, Rockwall Wealth Advisors
Savannah Hill, The Savvy Travel Agency
Johnny Kirkpatrick, Raptor IT Solutions
Casey Lott, Baylor Scott & White Medical Center Lake Pointe
Rob McAngus, Verner Brumley Mueller Parker
Terry McBay, Juvanew Medspa
Marcel Naujok, AugenTek, LLC
Jessica Nelson, Alliance Bank
Mitch Ownby, Rockwall County EMS
Kayne Pierce, B1 Bank
Trevor Reed, Volkert, Inc
Rob Shalvey, Rest Haven Funeral Home
Jeremy White, City of Rockwall
Leadership Rockwall Class of 2022 Sponsors: Baylor Scott & White Medical Center Lake Pointe | All Care Comfort Solutions | Oncor | Republic Services | Southwest Kia Rockwall