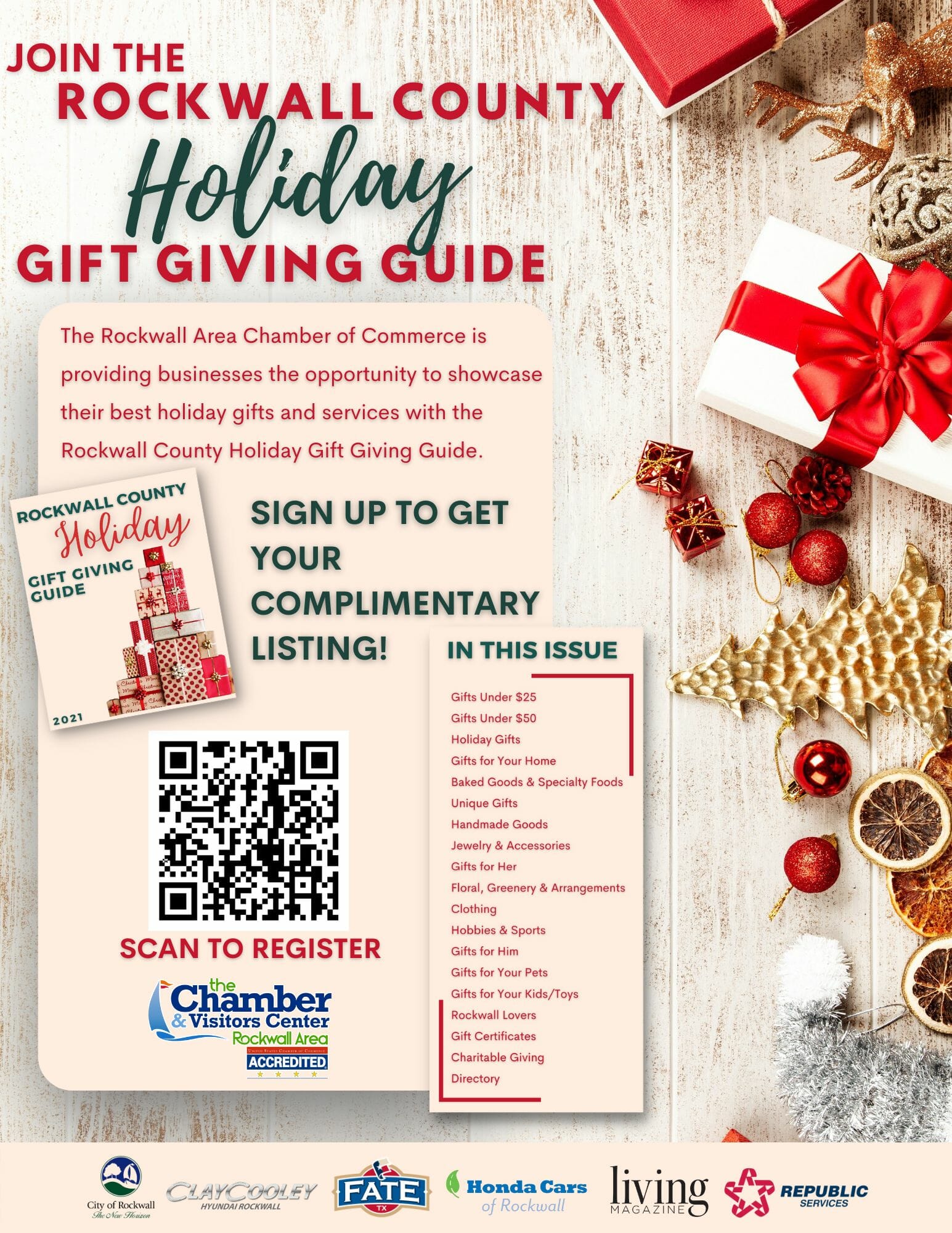 Interested in being featured in the Rockwall County Holiday Gift Giving Guide? Register below!
Rockwall County Holiday Gift Giving Guide
The Rockwall Area Chamber of Commerce is providing businesses the opportunity to showcase their best holiday, gifts, goods & services with the Rockwall County Holiday Gift Giving Guide.
Divided by category of gift type and amount, pictures will showcase 100% LOCAL gift ideas.
The online gift giving guide is meant to showcase businesses that have goods and services that make great gifts at this time of year. It is open to all businesses in Rockwall County (both Chamber Partners & our business community at large).
ALL Rockwall County BUSINESSES
Each business can submit up to two photos of items they carry at this time of year, to the category of their choice. Photos will be identified by the business that sells it. All businesses will be listed in a directory in alphabetical order.
ROCKWALL AREA CHAMBER PARTNER OPPORTUNITIES
Chamber Partners who focus on selling giftable products (goods and services), especially at this time of year can receive a full feature page in the guide for $250. This page includes:
Three photos of items available this holiday season
A write-up provided by the business about the business and the types of items available as gifts
Contact information
A listing in the directory
For full details, please contact Miranda@RockwallChamber.org
Chamber Partners who don't provide holiday giftable items and services but would still like to offer a holiday wish from their business may submit the following to Shaun@RockwallChamber.org
A business card size spot to offer your holiday wish or message
Business contact information
To Register to be apart of the Rockwall County Holiday Gift Guide, please fill out the form below.